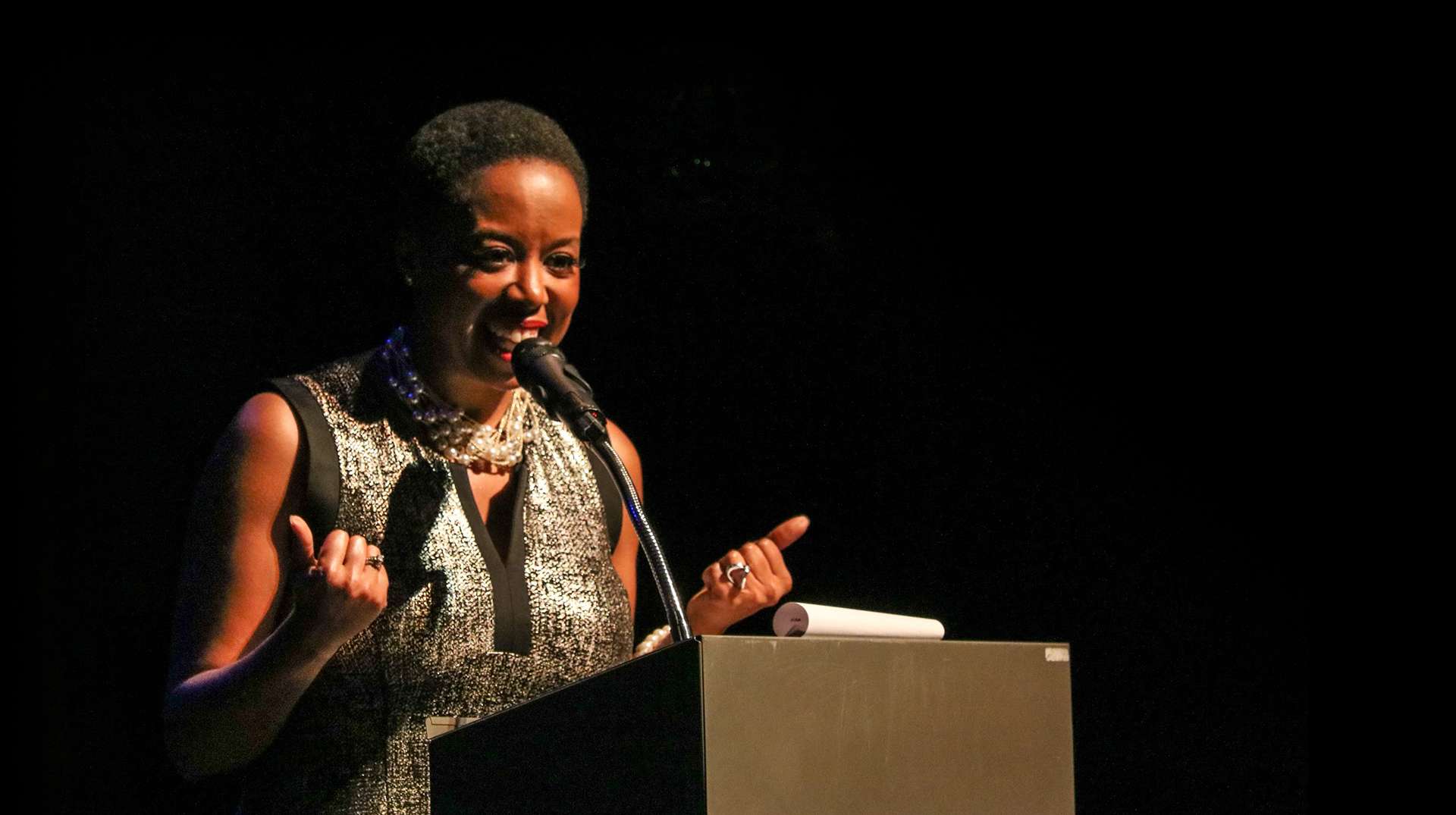 Orlana

Darkins

Resume
Orlana Darkins Resume
Orlana Darkins Drewery is a renowned media, public relations, and event management professional who held key positions with prominent businesses and organizations throughout her rich career. Orlana, who is also an advocate for young adults, used her skills and passion to co-create an organization that's dedicated to promoting the positive sides of Western & Eastern Pennsylvania by celebrating the positive achievements of young adults.
After founding Darkins Communications, a communications and event planning company in 1994, that expanded to The Darkins Group in 2005, she went on to coordinate major events and has brought numerous A-list superstars to Pittsburgh, Pennsylvania. Performing artists booked by The Darkins Group include Gospel artists and Grammy winners, Fred Hammond, Yolanda Adams, Kirk Franklin and Vicki Winans; Grammy winner and superstar, Fantasia; EGOT winner, John Legend; and Grammy winner, Esperanza Spaulding, just to name a few.
While operating The Darkins Group, in 2007 she co-founded The Shyne Awards Foundation which serves as an umbrella for the organization's signature event "The Shyne Awards," a premiere awards ceremony that celebrates the positive achievements made by young adults, and "The Shyne Network," a promotional media and communications company.
In 2011, she was instrumental in bringing urban music back to Pittsburgh with WAMO100 where she worked as the Director of Marketing and Special Events. In addition, Orlana is the host and producer of Mount Ararat Baptist Church's online promotion announcement program "Mount TV"; she's the Producer and Host of The Shyne Network Radio Show, a weekly public affairs show heard on Pittsburgh's Hip-Hop and R&B radio station, WAMO100 (100.1FM), and The Beat (107.3FM) the city's Old School radio station.
A native of Pittsburgh, Pennsylvania, Orlana earned her Bachelor of Arts degree from Penn State University.
---
Communications Specialist & Writer
A renowned media professional who held key positions with several local businesses and organizations in Pittsburgh, Pennsylvania. The Penn State University graduate entered the field of communications with the New Pittsburgh Courier and would move on to work in public relations with Ketchum Public Relations, Sheridan Broadcasting Corporation, American Urban Radio Networks, Family House, University of Pittsburgh, Mount Ararat Baptist Church & Kelly Strayhorn Theater.
Event Management Professional
A short list of events Orlana's planned and managed:
Executed the "Power in Praise" Concert that featured Isreal & New Breed, Tye Tribbett and Greater Anointing (May 2005)
Organized and Managed the Gateway Clipper Fleet's "Sunday Gospel Lunch" summer cruises (Summers 2005-2011)
Coordinated Family Services of Western Pennsylvania's Jeffrey Osborne Benefit Concert (January 2006)
Created and co-founded The Shyne Awards (2007-Present)
Created and executed Pittsburgh's first Music & Entertainment Conference that featured 20 of the industry's top decision makers and national recording artists. (March 2007)
Organized the 25th Annual Family House Polo Match & Mansion Party (2008)
Collaborated & Co-coordinated the Hill House Association's 40th Anniversary Celebration, "Sugar N Soul" benefit events (2005-2008) and their "Soul Gala" event (2009-2012)
Coordinated and managed Sheridan Broadcasting Corporation's "Juneteenth Celebration" 2-3 day music festival (1999-2003)
Created and managed WAMO radio station's "Today's Woman" Conferences (2000-2003)
Minority Enterprise Corporation's "PowerConference" (1997-1999)
Public Relations & Media Experience
Communications Consultant for the August Wilson House in Pittsburgh's Historic Hill District neighborhood (2018-Present)
Creator & Owner of The Shyne Network, a communications & promotions agency. Inquire Here about The Shyne Network (www.TheShyneNetwork.org) and Producer & Host of The Shyne Network Radio Show, weekly public affairs show, heard on WAMO100 (100.1FM) and The Beat (107.3) (2017-Present)
Host, Producer & Writer of Mount Ararat Baptist Church's online promotion announcement program "Mount TV" (2014-Present)
Marketing Consultant for WHC Ministries, Pittsburgh, Pennsylvania (2015-Present)
Voice Over Artist for commercials and promotional videos for churches locally & nationally, businesses and organizations. (2011-Present)
Marketing Consultant for JAK Ministries in Pittsburgh, Pennsylvania (2008-2018) and JAK Ministries in Lancaster, Pennsylvania (2019-Present)
Communications Director for The David Berg Center for Ethics & Leadership at the University of Pittsburgh (2008-2011)
Editor of eResource, an employment publication produced by Infinity Broadcasting Corporation (2004-2006)
Created and Developed an entertainment and community newspaper for Sheridan Broadcasting Corporation called Rhythm & News for Pittsburgh, Pennsylvania and Buffalo, New York (2001-2003)
Media relations manager for Minority Enterprise Corporation (1996-1999)
Public Relations Consultant Sheridan Broadcasting Corporation & American Urban Radio Networks (1998-2003)
Voice Over Work
Please click on the titles below to view the samples.